About Atlanta Georgia
The capital of Georgia and seat of Fulton County, Atlanta is the premier transportation, commercial, and financial center in the Southeast. As of 2016 Metro Atlanta's population rose to more than 5.7 million residents last year, and the number of people living in
Fulton County crossed the 1 million milestone
, according to
newly released U.S. Census estimates
.The Atlanta area remained the ninth-largest
metropolitan statistical area
in the country. The region grew by about 1.7 percent between 2014 and 2015.
Atlanta is located in north central Georgia, in the foothills of the Blue Ridge Mountains. The city's relatively high elevation (1,050 feet above sea level) yields a moderate climate. The average daily temperature for the month of July is a pleasant 78.8 degrees Farenheit.
METRO ATLANTA COUNTY INFORMATION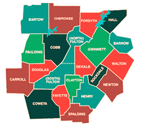 The metro Atlanta area consists of 20 counties. Each has it's own unique attributes and places of interest. The links below will provide you with business directories, historical information, facts and county government contact information for each county.
Like most modern cities, the growth of the Atlanta metropolitan area has been driven by the expansion of suburban neighborhoods. Some of the most attractive areas include Gwinnett County to the East , Cobb County to the Northwest , and Cherokee County to the North .The transportation system in Atlanta is among the nation's finest. During the 1970s, forward thinking city planners created MARTA, the Metropolitan Atlanta Rapid Transit Authority. MARTA trains carry thousands of suburban commuters daily. Hartsfield International Airport is among the nation's busiest. It is the Southeastern hub for many major airlines, and is the home of Delta Airlines, one of the largest commercial air carriers in the world. Commuters who travel by personal automobile will find convenient access to outlying areas. The city is intersected by Interstate 20, Interstate 75, and Interstate 85. Interstate 285, which encircles the city of Atlanta, provides a ready route for those who need or choose to bypass the city center. Finally, Georgia Highway 400 supplies quick access to the Northern suburban areas, while US Highway 78 performs the same function for persons traveling East to Gwinnett and DeKalb counties.
Atlantans rightly take great pride in their educational institutions. Atlanta Local schools compare very favorably with their counterparts in the rest of the country. Atlanta is also home to several institutions of higher education, most notable Georgia State University, the Georgia Institute of Technology, and Emory University. The University of Georgia operates a satellite campus in Gwinnett County. The Atlanta population is relatively well-educated compared to other major metropolitan areas in the United States. It ranks 20th in the proportion of the populace that posseses at least a bachelor's degree. This places it ahead of many larger cities, including New York and Los Angeles, which are tied for 34th, and Chicago, which is ranked 49th.
Recreational and cultural opportunites suiting a wide range of tastes are available in Atlanta and its environs. The Atlanta Symphony Orchestra is recognized as one of the nation's finest. The Fox Theater, located in the heart of Midtown Atlanta, is the scene of numerous musical and theatrical performances. The Atlanta Braves have emerged as one of the most exciting professional baseball teams of the 1990s, while the Atlanta Falcons play eight National Football League games per year in the fabulous Georgia Dome.